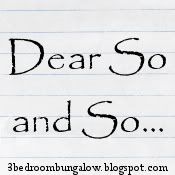 Dear invisible teeth
Stop bothering my baby girl. It's not nice seeing her in pain and also, mummy needs some sleep eventually. So get a grip and come through, so I can have my happy baby back.
Her whose picture is shown next to 'sleepless' in the OED
***************
Dear Postman
You are working for a company called Royal Snail, so do not turn up at my door before 8am and make me hit my head in an attempt to make it down the stairs with more than knickers and a bra on.
Her whose head is still throbbing
****************
Dear Daddy
You might think you've won the battle, but Amy will not have an all English Christmas.
Her who opens her presents on Christmas Eve
***************
Dear Hotel Chocolat
Would you like to become my blog sponsor? I'd be the perfect representative for your company.
Her who breathes chocolate