Cherries and berries are my favourite fruit and during summer months I always remember the weeks that I spent with my grandparents when I was little. My nan and grandad are passionate gardeners, who have an allotment, a garden outside their house and quite obviously too much time on their hands. The great thing about them being that passionate about their flower beds, veggie plots and fruit trees is that we always had a supply of fresh fruit and veg. It was amazing. Every summer we had fresh strawberries, raspberries, cherries and every single fruit and vegetable that grows in European allotments. My nan always made the most out of the summer months and prepared the most delicious summer dishes. One of my absolute favourites was her summery cherry soup with semolina pudding (without the semolina pudding for me). If you want to give it a go, here is the recipe. It's really easy and super refreshing on a hot summer's day.
Ingredients for the soup:
500g cherries
400 ml water
1 slice of lemon rind
2 tbsp cornflour
3 tbsp sugar
1 cinnamon stick
1 vanilla pot
For the semolina pudding:
1l milk
100g semolina
70g sugar
seeds of 1 vanilla pot
Method for the soup:
Stone the cherries and cook them and the slice of lemon rind in 300ml of water. Mix the rest of the water with the cornflour and use the mix to bind the soup. Remove the lemon rind and add the sugar, cinnamon stick and vanilla pot. Leave to rest for about 30 minutes, but don't forget to stir your soup occasionally to avoid skin forming.
Method for the semolina pudding:
Bring the milk to the boil and add the sugar. Add the seeds of the vanilla pot and stir in the semolina. Leave to simmer for a couple of minutes, but don't forget to stir every now and then. Fill into a bowl and place in the fridge for it to cool down.
Serve the soup either cold or warm and add the cold semolina pudding for a refreshing summer dessert.
If you have any summer food recipes that you would like to share, simple grab the badge, share it under your blog post and link back to this page before you enter your recipe in the Linky below. I'm looking forward to your yummy summer treats. There are no rules, so link up recipes for soups, salads, sweet treats or a summer bowl.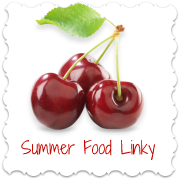 <a href="http://www.mummyalarm.co.uk/2012/07/summery-cherry-soup-with-semolina-pudding/" target="_blank"><img src="http://i1113.photobucket.com/albums/k513/caro_mad/summerfoodlinky.png" alt="Mummy Alarm" border="0″ /></a>