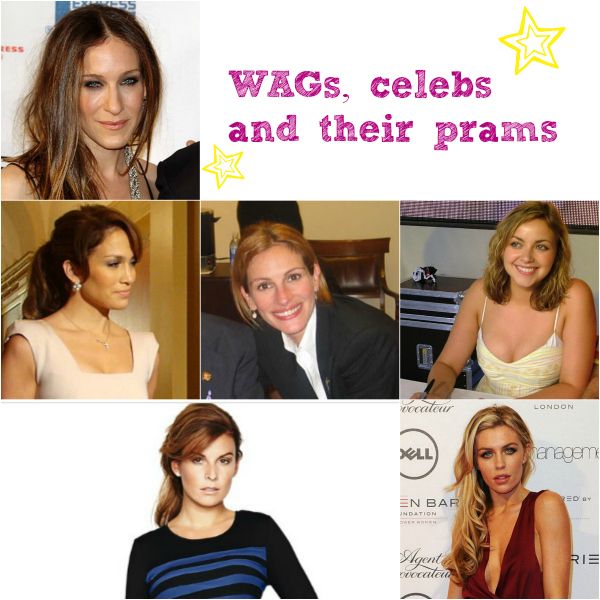 In the past few years, it seems as though every single celebrity worth caring about (as well as quite a few who aren't) has had a child or two or three. People love to follow what's hot in terms of celebrity fashion, yet no one seems to be paying attention to what the celebabies are riding around in!
So we thought it was high time someone did something about that. No one else was going to, so we've taken up the mantle and rounded up some of the best, the very trendiest of pre-prima donna prams and pushchairs!
Celebs have seemingly unlimited budgets, so you'd imagine that their pushchairs will all be custom-made and cost upwards of four figures, completely decked out with all the best accoutrements for a bling baby buggy. This list might surprise you, if that's the case!
Siblings and the City
Recently, Sarah Jessica Parker has been seen pushing her little ones around in the Cybex Callisto, from Mamas & Papas. For someone who seems willing to spend an absolute fortune to stay fashionably relevant, SJP's choice doesn't exactly break the bank – it comes in at a delectably affordable £230!
However, if you'd rather emulate Carrie Bradshaw rather than her real-life counterpart, the Stokke Xplory from Pramworld was featured in the latest Sex and the City film. This one is slightly pricier however, rocking in at £580.
Spice Girl
Little baby Bluebell, daughter of Ginger Spice Geri Halliwell, has been seen going about the town in the lovely Lulu Guinness Butterflies buggy, which will set you back a mere £210. Not bad for a gorgeously fashionable stroller!
Ocean's Two
Julia Roberts pushed her twins Phinnaeus and Hazel around in a truly stylish double buggy. Notoriously clunky, twin pushchairs can be difficult to pull off, but the Maclaren Twin Techno (which costs just £270 – great value for a twin!) suits this Pretty Woman right down to the ground.
Welsh Warbler & American Idol
This classically elegant model is the choice of popstresses Jennifer Lopez and Charlotte Church – the Silvercross Balamoral. The coach style pram hearkens back with its gorgeous vintage aesthetic, but you get what you pay for; expect to pay upwards of a thousand pounds!
There are, of course, many more funky and fashionable pushchairs available in a more… non-celeb price range. We would suggest simply taking a look online and seeing what inspires you! If you want something like a more affordable Balamoral, it's only a quick Google away…
Take a Walk on the WAG Side
The incredible Concord Carbon Neo has it all, with a really daring modern design unlike any other pushchair we've seen. It happens to be a favourite of Coleen Rooney and little Kai, and Abbey Clancy has gone for one in the same range, so it's the one for you if you like your WAGs!
However, you'd probably need a Peter Crouch on hand to afford it – the prices start at a star-struck £1800!
Disclosure: This is a promotional post.