Last week, I spent a lovely afternoon at the beautiful Greenway Hotel and Spa near Cheltenham and crafted my little heart out while sipping Shloer's new festive bubbly.
Shloer have added two new flavours to their ever growing range of alcohol-free drinks and because it's the season to be jolly, the latest additions are a Celebration White Bubbly and a Celebration Pink Fizz. Both of them come in a cork bottle (no more feeling like the outsider with the screw top) and are available in all major supermarkets. At £2.99 a bottle, they're a real bargain and much cheaper than the real deal – plus they don't give you a nasty headache the next day.
After trialling both of the new flavours, the lovely girls from The Makery took over. The Makery is based in Bath and the girls behind it offer fabulous craft workshops and parties as well as an online shop with lots of fun craft kits and material. I had heard of The Makery before, the girls are something like local craft celebrities, and I couldn't wait to get started when they spread out all their lovely craft materials.
There were fabrics and ribbons, buttons and bells and on my behalf, two very sweaty hands. You know, I love crafts and I'm fine with some glue and a pair of scissors, but I can't sew for the life of it. If something's got a hole in it, it goes in the bin, so for me to actually create my very own heart ornament was something very exciting. I am super chuffed with it!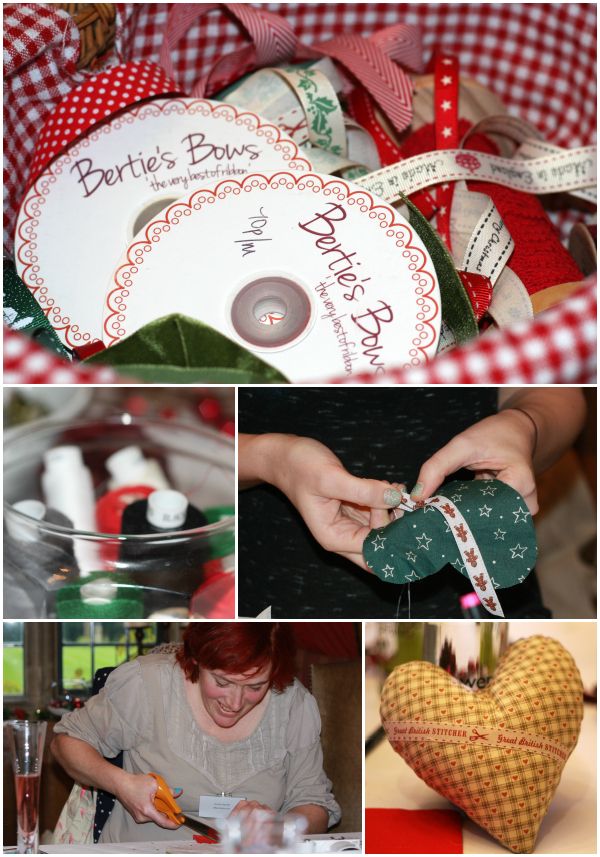 We had a really lovely afternoon and as if a fun crafting session and bubbly weren't enough, the lovely girls from Shloer's PR team treated us to a delicious afternoon tea and a tasting session for Shloer's new spring and summer flavours. I can tell you, there are some really tasty new flavours about to hit the shelves…
Disclosure: My expenses were covered to enable me to attend the event and I received a goody bag to take home. Also, thanks to Helen from The Crazy Kitchen for the image of the Shloer bottles. I was too busy drinking it to take a pic myself!