When writing out our list of family to buy for, we were shocked at the sheer amount of people we had. Funny how it doesn't seem so many when you go to individuals houses etc. This year, we're trying to keep the costs down and the best idea we've had so far is our own wrapping paper.
Recently we've been using a roll of paper to create our very own wrapping paper for the gifts we're sending, there has been lots of mess, let me set the scene. Mini U&C sitting at the table with paints, paintbrushes, sponges, glitter etc – Leaving the room for 2 minutes to grab a cloth, re-entering to find mini U&C in what can only be described as an audition for Twilight – you know the scene we mean don't you? We can laugh about it now but at the time we could have cried!
We've created many masterpieces and pushed the boat out with textures and colours. You see, Christmas isn't all about reds and greens. In mini U&C's world, it's always about the sparkle! Foam shapes and stickers have been the media of choice this time round, along with paint of course.
Once the creations are dry, we put on a Christmas film, (this time round its Arthur Christmas) we get the hot chocolate on the go and we wrap presents. Generally we wrap them at the beginning of the month and this is due to mini U&C not being able to keep secrets!! Using ribbons, bows, confetti and tissue paper too, we have a real good go at making the present as pretty as possible.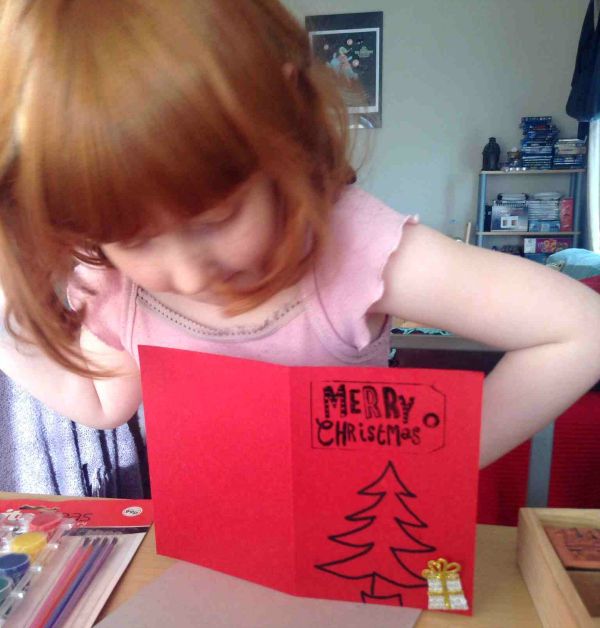 We make our own Christmas cards too and along with the bespoke wrapping paper, it's a real treat for the family to open and the pleasure mini U&C gets from creating the smiles is worth every inch of the mess created.
Have you made any personalised wrapping paper/ cards this year?  
The 11th post of the Blogger Advent Calendar was brought to you by Chelle from Unique & Chic. When Chelle lives in Brighton with her husband and daughter and blogs about all things pretty when she isn't making Twitter and Facebook go wild for her social media clients.