Special foods can create really powerful memories. As we are a bilingual family we try to cook and eat special foods from both cultures (this luckily means twice as much cake!)
Here's how to make a 'Roscon de Reys' a traditional Spanish sweet bread, shaped and decorated to resemble one a crown. This is usually eaten on 3 Kings Day (6th January). It's an enriched dough (i.e. contains eggs and butter) so it tastes richer than a regular loaf (check out my baking knowledge all gained from watching the Great British Bake Off!)
First you need to make a 'starter dough'. The website where I found the inspiration for this recipe calls it a 'mother dough' which I love as it sounds like it's from Star Wars. Add 90g strong white bread flour to 2 sachets of dried yeast and mix with 50ml of warm milk (I usually bung it in the microwave for a few seconds to take the chill off). When you've formed a dough (it's normally quite sticky but don't worry) shape it into a ball and mark it with a cross. Place it in a bowl of warm water and let it rise to the top. As the yeast works it fizzes – the kids love watching this (and they have a mini science lesson at the same time).
Whilst the starter dough is proving, get started on your main dough: In a bowl mix 625g strong white flour, 10g salt, 250ml milk (room temp), 100g caster sugar, 2 tsp. vanilla extract, 1 tsp. honey, 2 eggs and 1 yolk , 100g melted butter ,the peel of one orange and one lemon. You can knead the dough by hand but I prefer to use a mixer and finish it off by hand. If you are kneading by hand, knead for approx. 10 mins. If you have little people helping you in the kitchen, kneading by hand can actually help to build up hand strength, which is important for developing fine motor control (and developing handwriting skills).
When your starter dough has risen to the top add it to the main dough and knead well. Then you need to leave the combined doughs overnight in the fridge in a bowl covered with cling film. In the morning you will see it's grown. Next you need to make the 'crown' shape. Make a hole in the middle of the dough and pull it apart to form a hoop. It helps to place cups or something similar in the middle of the hoops as the dough now needs to rise for a second time.
Once it's approximately doubled in size decorate with fruit and toasted almonds.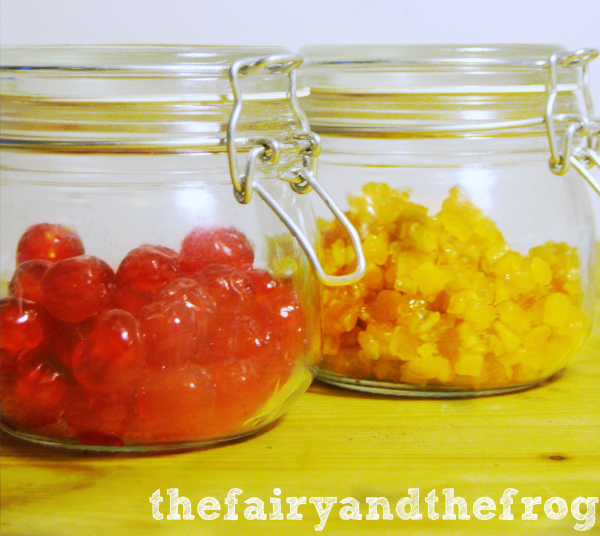 Then bake for approx. 20 mins at 180c
For the final decorate touch you can drizzle glace icing (icing sugar and water) over the top. Serve with whipped cream. Feliz Navidad!
What do you enjoy eating at Christmas? Do you have any special dishes you like to bake?
Day 13 of the Blogger Advent Calendar was brought to you by the mother of The Fairy and The Frog – wait a minute, does that make her The Fairy Godmother of Frogs? I don't know, but what I do know is that she blogs about playing, growing, making and creating fun, so do go and check out her blog.