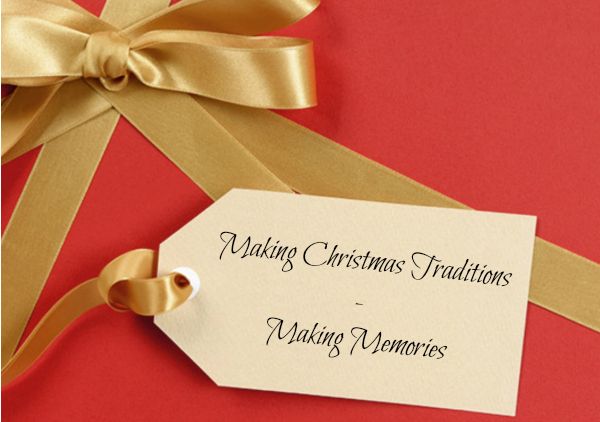 I have incredible memories of Christmas as a child. I think most of us do for one reason or another. The pillowcase at the bottom of my bed, limp before I fell asleep, but bulging with parcels in the early morning darkness. I remember quietly sneaking out to open presents by torchlight, hopeful that no-one in the house would hear me. They did, of course, but they were parents of a young child  –  I like to imagine they had an expectant grin to themselves and then dozed off for another hour before the chaos hit them.
I don't remember any other traditions apart from the requirement to eat turkey sandwiches and a Christmas cake 2 hours after downing the biggest lunch of the year. Maybe that's why, when I became a parent myself, I was suddenly overtaken by the need to develop some Christmas traditions for my own young family. Just a handful of things that my kids will remember, and maybe take forward with them into new families one day.
So here are our must do Christmas traditions:
1. Advent Calendars: we always have an old-fashioned advent calendar. Grandma sends the chocolate versions, but I have to have the kind of calendar I had as a child,filled with robins, presents and angels, a sprinkling of glitter to frost the anticipation every morning. I have to hunt for it, and it's not cheap, but for me it's way more meaningful than today's calendars.
2. Tree decorating: it's always a big deal, and we do it the first weekend of December. We all help, the cheesy songs go on the CD player, and Actually Daddy and I have our first glass of mulled wine of the season as we do it. Such a lovely day!
3. The Gingerbread House: we started making one of these with a kit from Ikea when GG was very small, but I've graduated to baking my own and using online templates to create the perfect house. It's really not as hard as it looks. The children get one side of the roof each to decorate with sweets as they please. It's such a lovely afternoon, and never fails to elicit a gasp from visitors. We break into it on Boxing Day, although there are always a few surreptitious thefts over the course of the month!
Christmas Eve:
For me Christmas is all about Christmas Eve, and we follow the same pattern every year. I look forward to it all month and on the day there are such good spirits in our home. Here's what we do:
Crib service: there's something so precious about going to the Crib Service with the children – it never fails to get me emotional as the children's carols begin and the candles are lit. My older nephews do midnight mass nowadays but I can't imagine a time coming when I'll want to skip the crib service!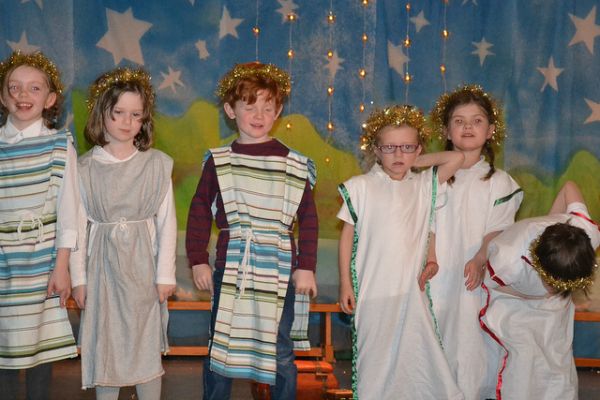 Kids tea: I'll always invite a few people back for a mince pie while the kids eat tea, but then everyone is shooed off to their homes so we can get on with the best part.Once the kids are bathed they come downstairs to hang up their stockings, and put out a snack for Father Christmas. That's when they get their Christmas Eve present of new pyjamas.
Bedtime: bedtime story is always 25 December Lane by Helen Ward and Wayne Anderson. It's a gorgeous story that stays in the loft year round so it's extra special when the time comes to read it. Just as I come to the end, I'll yell down for Jason to"put the oven on" for our dinner. This is his cue to take our sleigh bells into the garden and start shaking! "Quick! Do you hear? Get to bed quickly! He's coming!"always sees the children diving under their duvets, and then we're on to the grown up part of the evening.
Adults only: Christmas morning is about the children, so Jason and I often exchange gifts the night before. We'll have champagne and smoked salmon while we do any last-minute wrapping, and we watch either The Holiday, or Love Actually. It's a lovely moment before the madness of the morning.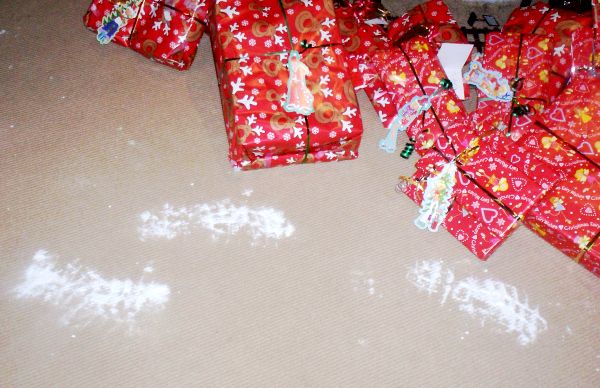 Make believe: Jason doesn't get involved in the Christmas prep until the last minute, but this is when he brings his own childhood traditions to the fore. Coals are scattered over the rug, often a candlestick is strategically knocked over, and if there's snow, giant footprints have to be made. He even went so far as to bring mud in from the garden one year so that I could make a show of getting cross with Santa in the morning. He only did it once…
This year I've heard so much about Elf on the Shelf that I'm adding a new one to my list of things to do for the kids. I say I'm doing it for the kids, but you know, these things have a way of making life merrier for all of us!
Which Christmas traditions do your family have?
The 7th day of the Blogger Advent Calendar was brought to you by Helen from Actually Mummy. Helen lives in Hertfordshire with Actually Daddy, GG and the Bug and loves frozen wine, Thorpe Park adventures and geocaching.