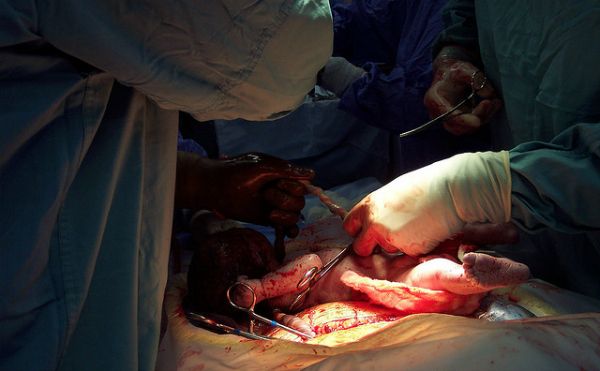 Having a baby is hard work, and recovering afterwards can take a while. The recovery period is even longer if you have had a C-section, and you need to take extra special care of yourself to ensure that you are fighting fit in the shortest amount of time. Looking after a new baby isn't the most conducive to making a speedy recovery, but by making a few adaptions to your daily life, you can be on your feel again and feeling fab in no time.
Put it down!
The rule of thumb is, that if something is heavier than your baby, then you shouldn't lift it for at least 6 weeks post-partum. The biggest myth about C-sections is that you can't pick up your own baby if you have one. This is simply not true, you just need to be careful how you lift them, and avoid any twisting, bending too far, or over straining. By being sensible and avoiding any over zealous lifting you can expedite the time it takes for your tummy muscles to heal.
Stay at home
This might sound boring, if your child hasn't been born yet, but most new mums, regardless of the delivery method, would love an excuse to stay in. Rest up as much as you can and make sure you have everything you need in the house so you don't need to nip out for anything. These days you can get anything and everything online, be it food, nappies, lightbulbs or anything else. You can even buy baby clothes online, and with George's range of baby clothes online at such great prices, you won't be so worried about hitting the shops.
Visiting hours
A C-section is a pretty major operation and those around you, as well as you, need to realise that you will need some recuperation time. Let loved ones come to see you and your new arrival, but make sure it's on your terms so you don't get exhausted with people over all the time. You might like to set visiting hours, as if you were on the post-op ward at hospital. Alternatively you could insist that guests lend a hand, by either bringing something you need or doing something round the house such as the washing up. Most friends and family won't mind this at all, as many are desperate to help in any way they can when a new baby is born.
Exercise
Now this doesn't mean go for a jog – leave that for at least six weeks! It just means do basic exercises that will help strengthen your stomach muscles again. Laughing, coughing, breastfeeding and even going to the loo will all be uncomfortable for a while but will soon become normal again. Go for short walks with the buggy when you feel up to it, just potter round the garden, or try some breathing exercises too – and try to keep your back straight.
Whether you have had a scheduled C-section or it was a last minute necessity, the recovery period afterwards is greater than with natural births. Treat yourself like you would any friend who had just had surgery and make sure you look after number one whilst raising your new addition, they want mummy in one piece after all.
Disclosure: This post was brought to you by George for ASDA. Image credit: Mattman4698