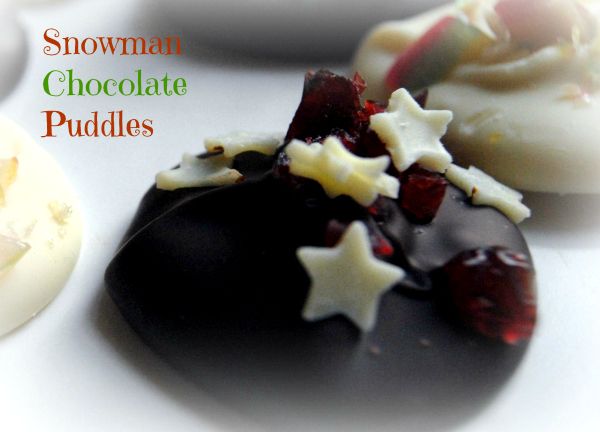 Everyone loves chocolate don't they? And making them as presents has been a long running tradition in our house since the kids were tiny (oh dear god that's 20 years now!) So I thought I 'd share a favourite with you – simple, quick and easy enough for the little ones to help you!
Snowman chocolate puddles –
2 standard bars of white chocolate
2 candy canes
That's it – 2 ingredients!
Unwrap the candy canes and put them in a sandwich bag.

Bash them with a rolling pin until you have small slightly sparkly pieces.

Melt the chocolate until smooth and pour into bite size puddles on a sheet of greaseproof paper.

Sprinkle a little of the candy cane pieces onto the chocolate puddles and leave to cool in the fridge for a few minutes.
Ta-da ! Snow man chocolate puddles!
A very lovely fellow blogger Domestic Goddesque has a similar recipe and so as a nod to her yummy treats we made some dark chocolate puddles too!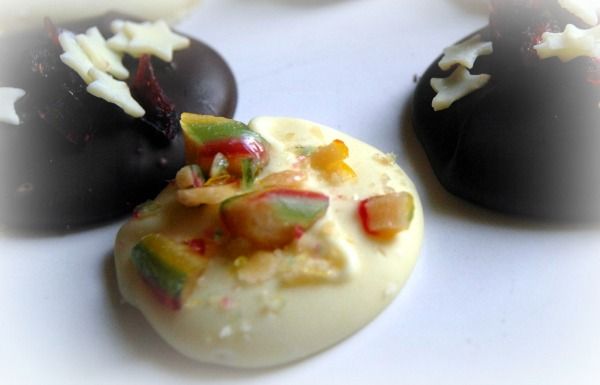 2 standard bars of dark chocolate
A handful of dried cranberries
A handful of white chocolate stars
Exactly like the white chocolate – melt it until it's smooth, form little puddles and sprinkle with the fruit and stars.
And there are a million different ways of doing it – fruit – ginger – edible glitter – sprinkles – anything that takes your fancy (or that you have lying around in the cupboard!)
So happy chocolate making lovely peeps!!
The 8th day of the Blogger Advent Calendar was brought to you by Mary from Keynko – A Crafty Family. Mary loves her sewing machine and borrowing other people's children – not because she's weird, just because she misses hers being little.