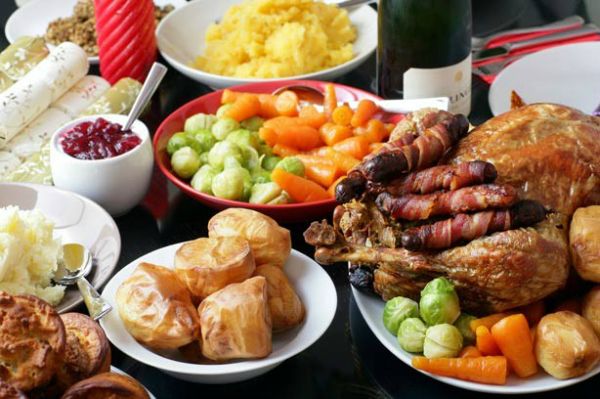 There is no point in denying it, Christmas dinner is a Work Up. From putting the turkey in the oven at 7am (so it's definitely cooked and rested come dinner time) to not overcooking the sprouts (because a soggy sprout is the very reason they get a bad name, and that's just a shame), it's really easy to use convenient short cuts.
I've been cooking for at least 12 people for the last 5 years and I reckon I've cracked it. It's the same with any roast dinner, just scaled up. With a little bit of timing, Christmas dinner can be far less stressful, and there will be no slaving around in the kitchen all day. I still take shortcuts, but that tends to be just getting as much as I can done the day before.
Vegetable prep
I serve roast potatoes and parsnips, mashed swede and carrot and sprouts, and I do all of the prep a day or so before. Anything that can be peeled and stored in the fridge overnight is and this saves a remarkable amount of time on Christmas morning when you could be opening presents and cracking open the fizz and the tin of Roses. So, carrots and swede are peeled and diced, sprouts are trimmed and the outer leaves removed. Then, these go in tupperware in the fridge and I can forget about them until I need to cook them. I think that takes around an hour, and you can get kids involved with the peeling and leaf-removal.
That just leaves potatoes and parsnips on the day, which you can parboil first thing in the morning and roast up when you're ready.
We have chipolatas, devils on horseback (amazing) and sausagemeat stuffing as sides to the turkey, and again, these are made up the day before. After I've done the veg, I move on to these. Chipolatas don't need any prep, but the devils on horseback take half an hour or so to make up. Once I've done these, I put them on the baking tray they will be roasted on, covered in cling film and put in the fridge.
Stuffing tastes better if you make it a couple of days before, as the flavours really marry together. So this is something I do on the evening of the 23rd December. Sausagemeat, a load of sage, onion, chestnuts, bread, and an egg or two to bind it. Mash it all together with your hands and keep it in the fridge. We cook it in a pyrex dish rather than in the turkey cavity and then serve it cut in big wedges, and it's just lovely, especially cold with bread sauce. It's perfectly okay to make it this far in advance and keep it cold.
The turkey
My number one tip for buying a turkey and making this easy on yourself is to buy your turkey from a proper butcher, and ask him to bone and roll it for you. The turkey looks like a turkey and carves like a turkey, but it cooks faster, fits in the oven better and you have all the bones and giblets and other such mankiness already removed so you can make your own stock for the gravy. Lots of people like a turkey crown but I always get the whole bird – there are loads of things you can do with the leftovers that aren't just sandwiches or a turkey curry, and I love a mix of the dark and white meat.
I make bread sauce and cranberry sauce and we have them in the middle of the table, ready for people to serve themselves. Both are made from scratch and are delicious. I make up the Cranberry sauce in the second week of December, and store in a sterilised Kilner jar in the fridge. A jar of this also makes a great addition to a Christmas hamper, and it really isn't anything like the jarred stuff. I'm not knocking the jarred stuff, it definitely has a place… just not in my house.
Bread sauce is another really simple side dish that gets forgotten about. I make this on Christmas eve, and just reheat and slacken on Christmas day when the gravy is cooking. Bread sauce is a milk-based sauce, which is infused with onion, cloves, nutmeg, bay leaves and peppercorns over heat. White breadcrumbs are added and the sauce thickens up and becomes almost porridge-like. When you're ready to serve it, slacken with cream and butter. It's a beautiful thing, bread sauce.
On the day
I won't lie. I am up early on Christmas morning. I prep the turkey by massaging softened butter on to the breast, and liberally seasoning with salt and pepper. But I always feel a sense of relief when it's in the oven, like that is one major hurdle out of the way and I can sit back with my glass of Prosecco and see what Santa has brought for the kids.
If I can get the swede and carrot mash cooked and done, and the potatoes and parsnips par-boiled long before I need them, then I am a happy girl, and everything just falls into place after that.
So to round up this post, I'm going to leave you with a couple of tips:
1) Eat up as much of the food in the fridge as you can in the week leading up to Christmas – you're going to need as much space as you can. Use up jars of olives in pasta sauces, have cheese and pickle sarnies for lunches, freeze what you can – just make sure the fridge is as empty as possible so you have room to store the turkey and everything.
2) If you're the cook, always ALWAYS have a drink to hand. Everything is easier to deal with when you've had some wine.
3) Sprouts are actually awesome when they are stir fried with pancetta and leeks. Trust me.
The 4th day of the Blogger Advent Calendar was brought to you by Steph from I'm Counting UFOs. Steph is mum to a small daughter and a toddler son, married to Ross and lives on the South Coast of England. She loves to crochet, is a pretty excellent cook and a pretty terrible housewife.
Image credits: Good to know, S Yume, Back to the Cutting Board