One of the many great things about having children is that on the first day of December it's perfectly acceptable to put the Christmas tree up. How much do you think you can tell about a family by looking at their tree?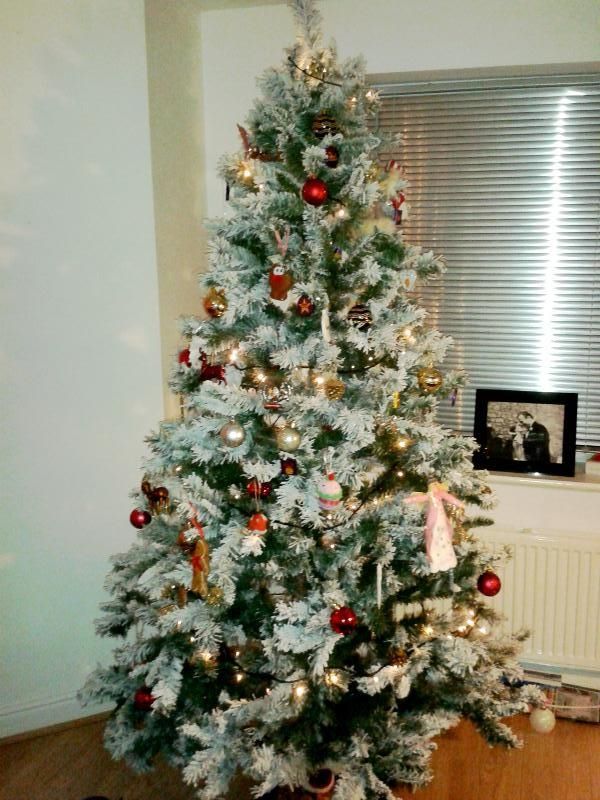 Looking at our finished tree, I can see how it's going to look in a few years time. Despite my OCD that everything should match and be colour coordinated, whether I like it or not our tree is going to be one of those mismatched trees with many, many handmade decorations lovingly made by the children hanging proudly from its branches. Once upon a time I would have hated that, and the mere thought of it would be bringing me out in a sweat. Now however, I'm embracing the mismatched, handmade decorations. I smile when we hang the decorations, each year there will be new ones to add. Each unique, very special, and a symbol of how the family is growing. This may sound corny but it warms my heart to think that one day Little miss and Little dude will be showing their old decorations to their own children.
It's not only the handmade decorations that raise a smile. Ever since the first Christmas hubs and I spent together we have made it a tradition to buy a new decoration for the tree every year. Our first Christmas we bought a pair of glittery birds (I like to think of them as lovebirds) the second Christmas followed our wedding, and on our honeymoon in Paris we bought a Disney bauble, the following year we couldn't help but buy a pair of swans –  swans have a lot of meaning to us. Then, the first year that Little miss was really aware of Christmas, we let her pick her first decoration for the tree. We visited a quaint, pretty little Christmas store, the decorations on offer were beautiful. Of all the lovely ones to choose from, she chose this…
Not the decoration I would have chose, but already I am very fond of her as Little miss chose her. We have since added other decorations, and this year the children chose a reindeer (Little miss currently loves the film Bambi), he has now found his spot on our tree.
So, you see Christmas trees tell stories. Ours is a storyboard of mine and hubs' lives together, and how our relationship has grown, or family. And in years to come with contributions from the children it will become even fuller and more colourful. I would hope that when people look at our tree they will see that we're a family who are full of love, fun, and laughter.
So, what does your tree say about you?
 The 9th day of the Blogger Advent Calendar was brought to you by Rachel from L-Plate Mummy. Rachel says she can't cook, is unorganised, not so much a domestic goddess, and her children outsmart her on a regular basis, but I think she's pretty fabulous!