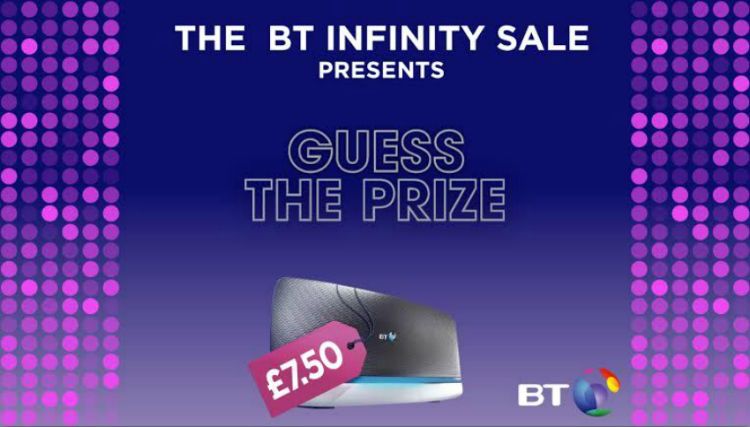 To celebrate the BT Big Broadband Sale (shhhh… BT Infinity is available for the amazing sale price of £7.5o!), BT are hosting the first ever live game show on their Twitter stream allowing users all across the country to win a bundle of amazing prizes.
During five hourly slots on Friday, 10th January 2014, (12pm, 1pm, 2pm, 3pm and 4pm), users will have 7 minutes and 50 seconds each hour to answer questions.
Do you have to sit in front of the computer all day? No! You have five chances of winning: once every hour, on the hour! So make sure that you are following @BT_UK and keep an eye out for the the question of all questions.
Within the 7 minutes 50 seconds live stream, your virtual game show presenter will ask you to spot the £7.50 bargain amongst a range of different priced prizes that run past on a conveyor belt to win all the prizes on show. Everyone who answers correctly will be entered into a prize draw with one winner per slot.
If you can't make the first couple of rounds during, don't fear. You can still win! From 4.08pm onward, there will be an extended prize draw for those who missed out on the shows during the day, featuring an image showcasing a bundle of prizes that can be won. This will run for the next 5 hours up to 9pm when the competition will close and a winner will be selected.
To make sure you are entered into the prize draw, make sure to do the following 3 things:
1. Use the hashtag #GuessThePrize
2. Remember that the item is valued at £7.50
3. Mention the @BT_UK profile by adding them to your tweet.
So now that you know what to do, go and get them. There are fab prizes up for grabs, for example an XBox 1, a Home Entertainment system, Barclays Premier League tickets and many more which will be unveiled tomorrow.
Good luck! 
This is a promotional post!