The Somethingosaur by Tony Mitton is my absolute favourite of Amy's more recent children's books. I, of course, love all the classics, but this one always gives me this warm and fuzzy feeling inside.
The Somethingosaur tells the story of a little creature that hatches from an egg and goes on a quest to look for its mummy and its own identity. Its a long and hard journey and not everybody that the little dinosaur meets is friendly and kind, but at end of the story, the Somethingsaur comes to a cave and finds not only his mummy but also that he is in fact something even more special than a dinosaur – a … – well that would be telling!
If you get a chance to read this book with your little ones, please do. It's an adorable and heart-warming story for young and old and young readers will love all the dinosaurs and our adventurous little Somethingosaur.
The book is beautifully illustrated and the rhyme scheme really pulls the reader into the story. Amy adores this book and we often read it several times a day. There are lots of little details in the book that might not be too obvious to young readers, but I do love little touches like the lost egg sign or the Somethingosaur's plaster after his little accident on a mountain. They really prove that this book has been illustrated with much love and attention and this is something that really attracts me when choosing books for Amy.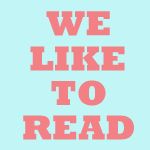 This post contains an affiliate link for your convenience.