Ho ho ho, it's that time of the year again, my lovelies! The blogosphere is talking about gingerbread houses, advent calendars and gift-guides, but we have already done that in the Ultimate Christmas Meme last year. If you haven't joined in, feel free to revive it and get tagging. This year, I want to focus on the musical side of Christmas and I would love for you all to join in and spread the Christmas carol love – traditional, modern, as always everything goes. Below you will find a number of different categories. All you have to do is embed the YouTube video of the song you think fits the category the most. Alternatively, you can just write down the name and artist of the song and tell us a little bit about it. There are no rules, so join in, grab the badge at the bottom and tag whoever you want. Most of all though, have fun and enjoy a little bit of fa la la la la la la la la…
1. The Christmas song that gets me in the mood for Christmas
2. The Christmas song that reminds me of my childhood
3. The Christmas song that I could listen to all year long
4. The Christmas song that gets me rocking around the tree
5. The Christmas song that my kids love the most
6. The Christmas song that I always sing from the top of my lungs
7. The Christmas song that reminds me of the true meaning of Christmas
So there you go, some songs might be a bit of a surprise, some quite obvious choices, but now it's up to you. Which are your favourite Christmas tunes? I'm looking forward to see your playlists!
I am tagging: Actually Mummy, Mummy Mishaps, Mammasaurus, Mummy Barrow and Mums The Word!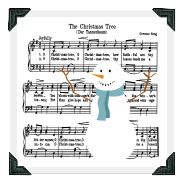 PS: I suck at creating badges! I do exactly what all tutorials tell me, but I never end up with the text box you need to grab the code. Simpy copy the little snowman and link to this post. That should do the job and save me from more grey hair.